The "Poker Princess's" tell-all book about running high-stakes games with celebrities and billionaires.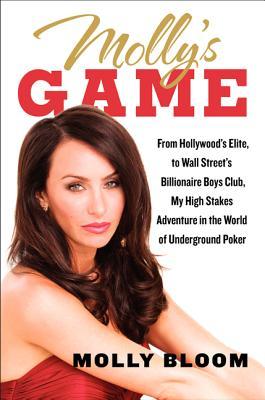 It Books, 2014, 272 pages

Molly Bloom reveals how she built one of the most exclusive, high-stakes underground poker games in the world - an insider's story of excess and danger, glamour and greed.

In the late 2000s, Molly Bloom, a twenty something petite brunette from Loveland Colorado, ran the highest stakes, most exclusive poker game Hollywood had ever seen - she was its mistress, its lion tamer, its agent, and its oxygen. Everyone wanted in, few were invited to play.

Hundreds of millions of dollars were won and lost at her table. Molly's game became the game for those in the know - celebrities, business moguls, and millionaires. Molly staged her games in palatial suites with beautiful views and exquisite amenities. She flew privately, dined at exclusive restaurants, hobnobbed with the heads of Hollywood studios, was courted by handsome leading men, and was privy to the world's most delicious gossip, until it all came crashing down around her.

Molly's Game is a behind the scenes look at Molly's game, the life she created, the life she lost, and what she learned in the process.

(
Collapse
)
---
My complete list of book reviews.