The First Marines on Peleliu and Okinawa.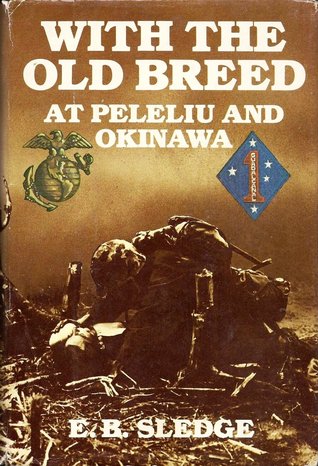 Presidio Press, 1981, 326 pages

With the Old Breed is a modern classic of military history AND has been called "one of the most important personal accounts of war that I have ever read," by distinguished historian John Keegan. Author E. B. Sledge served with the First Marine Division during World War II, and his first-hand narrative is unsurpassed in its sincerity. Sledge's experience shows in this fascinating account of two of the most harrowing and pivotal island battles of the Pacific theater.

On Peleliu and Okinawa, the action was extremely fierce. Amidst oppressive heat and over land obliterated by artillery shells, the combat raged ferociously. Casualties were extreme on both sides, and by the time the Americans had broken through at Okinawa, more than 62,000 Japanese soldiers were dead. Against military policy, Sledge scribbled notes and jammed them into his copy of the New Testament. Those notes form the backbone of what Navy Times said "has been called the best World War II memoir of an enlisted man."

(
Collapse
)
Verdict:
With the Old Breed
is highly recommended for anyone who is interested in World War II history, but especially for anyone who find war memoirs interesting and would like to know what war looks like to someone who's just another rifleman, not a general or a destroyer captain or a pilot, but a Marine whose job was to hack through jungles and shot and get shot at until the shooting is over. Read this book, and be grateful you will never have to go through that. 10/10.
---
My complete list of book reviews.