Snow White is the gunslinging half-breed daughter of a silver baron in Catherynne Valente's latest retold fairy tale.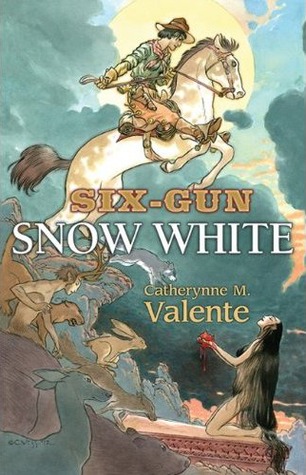 Subterranean, 2013, 168 pages

From New York Times bestselling author Catherynne M. Valente comes a brilliant reinvention of one the best known fairy tales of all time. In the novella Six-Gun Snow White, Valente transports the title's heroine to a masterfully evoked Old West where Coyote is just as likely to be found as the seven dwarves.

A plain-spoken, appealing narrator relates the history of her parentsóa Nevada silver baron who forced the Crow people to give up one of their most beautiful daughters, Gun That Sings, in marriage to him. With her mother's death in childbirth, so begins a heroine's tale equal parts heartbreak and strength. This girl has been born into a world with no place for a half-native, half-white child. After being hidden for years, a very wicked stepmother finally gifts her with the name Snow White, referring to the pale skin she will never have. Filled with fascinating glimpses through the fabled looking glass and a close-up look at hard living in the gritty gun-slinging West, readers will be enchanted by this story at once familiar and entirely new.

Note:
This year, I am going to try to read and review as many of the Hugo Nominees as I can. I will tag them with 2014 Hugo Nominee.
(
Collapse
)
Verdict:
If you like fairy tale retellings (like
Fables
) or any of Catherynne Valente's other work, then you'll enjoy
Six-Gun Snow White
. I didn't love it quite the way I love Valente's
Fairyland
books, but as one of the nominees for Best Novella, it's a worthy contender.
Also by Catherynne Valente
: My reviews of
The Girl Who Circumnavigated Fairyland in a Ship of Her Own Making
,
The Girl Who Fell Beneath Fairyland and Led the Revels There
,
The Girl Who Soared Over Fairyland and Cut the Moon in Two
,
The Habitation of the Blessed
,
Silently and Very Fast
, and
Deathless
.
---
My complete list of book reviews.