The swords and sorcery adventure continues in a pre-Enlightenment dystopia.
Jo Fletcher Books, 2014, 606 pages

Following his beloved debut, Traitor's Blade, Sebastien de Castell returns with volume two of his fast-paced fantasy adventure series, inspired by the swashbuckling action and witty banter of The Three Musketeers. Knight's Shadow continues the series with a thrilling and dark tale of heroism and betrayal in a country crushed under the weight of its rulers' corruption.

A few days after the horrifying murder of a duke and his family, Falcio val Mond, swordsman and First Cantor of the Greatcoats, begins a deadly pursuit to capture the killer. But Falcio soon discovers his own life is in mortal danger from a poison administered as a final act of revenge by one of his deadliest enemies. As chaos and civil war begin to overtake the country, Falcio has precious little time left to stop those determined to destroy his homeland.

(
In book two, the crapsack world gets grimdarker.
Collapse
)
Also by Sebastien de Castell
: My review of
Traitor's Blade
.
---
My complete list of book reviews.
The seventh (!) book in the Expanse series.
Orbit Books, 2017, 608 pages

In the thousand-sun network of humanity's expansion, new colony worlds are struggling to find their way. Every new planet lives on a knife edge between collapse and wonder, and the crew of the aging gunship Rocinante have their hands more than full keeping the fragile peace.

In the vast space between Earth and Jupiter, the inner planets and belt have formed a tentative and uncertain alliance still haunted by a history of wars and prejudices. On the lost colony world of Laconia, a hidden enemy has a new vision for all of humanity and the power to enforce it.

New technologies clash with old as the history of human conflict returns to its ancient patterns of war and subjugation. But human nature is not the only enemy, and the forces being unleashed have their own price. A price that will change the shape of humanity -- and of the Rocinante -- unexpectedly and forever...

(
Time for some good old Evil Galactic Empire.
Collapse
)
Also by James S.A. Corey
: My reviews of
Leviathan Wakes
,
Caliban's War
,
Abaddon's Gate
,
Cibola Burn
,
Nemesis Games
, and
Babylon's Ashes
.
---
My complete list of book reviews.
The Three Musketeers (kind of) in a crapsack but heroic fantasy world.
Jo Fletcher Books, 2014, 370 pages

The King is dead, the Greatcoats have been disbanded, and Falcio Val Mond and his fellow magistrates Kest and Brasti have been reduced to working as bodyguards for a nobleman who refuses to pay them. Things could be worse, of course. Their employer could be lying dead on the floor while they are forced to watch the killer plant evidence framing them for the murder. Oh wait, that's exactly what's happening.

Now a royal conspiracy is about to unfold in the most corrupt city in the world. A carefully orchestrated series of murders that began with the overthrow of an idealistic young king will end with the death of an orphaned girl and the ruin of everything that Falcio, Kest, and Brasti have fought for. But if the trio want to foil the conspiracy, save the girl, and reunite the Greatcoats, they'll have to do it with nothing but the tattered coats on their backs and the swords in their hands, because these days every noble is a tyrant, every knight is a thug, and the only thing you can really trust is a traitor's blade.
(
Fantasy adventure done right!
Collapse
)
---
My complete list of book reviews.
The Silicon Valley startup Theranos was run by terrible, terrible people.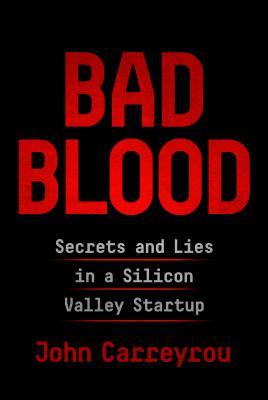 Knopf Publishing Group, 2018, 352 pages

The full inside story of the breathtaking rise and shocking collapse of Theranos, the multibillion-dollar biotech startup, by the prize-winning journalist who first broke the story and pursued it to the end, despite pressure from its charismatic CEO and threats by her lawyers.

In 2014, Theranos founder and CEO Elizabeth Holmes was widely seen as the female Steve Jobs: a brilliant Stanford dropout whose startup "unicorn" promised to revolutionize the medical industry with a machine that would make blood testing significantly faster and easier. Backed by investors such as Larry Ellison and Tim Draper, Theranos sold shares in a fundraising round that valued the company at more than $9 billion, putting Holmes' worth at an estimated $4.7 billion. There was just one problem: The technology didn't work.

A riveting story of the biggest corporate fraud since Enron, a tale of ambition and hubris set amid the bold promises of Silicon Valley.
(
In which we learn that Silicon Valley is as bad as Wall Street.
Collapse
)
---
My complete list of book reviews.
Dude has himself killed so he can go kill the guy who killed his fantasy love again.
Subterranean Press, 2016, 120 pages

What do you do if the man you've vowed to kill dies before you can kill him?

In college, Tom Holbrook worshipped Shasta DiMaio from afar, but she married the arrogant John Atwater—and Atwater eventually murdered her.

All that's left for Tom is revenge. He has devoted the rest of his life to finding Atwater and killing him—but when he finally finds him, Atwater is in a bag in the Los Angeles County morgue.

How do you kill a man who has already died?

(
An obsessive orbiter can't let go.
Collapse
)
---
Also by Tim Powers:
My review of
The Anubis Gates
.
My complete list of book reviews.
Aliens arrive. Earth's fate will be decided by a one-hit wonder glam rocker in a galactic sing-off.
Saga Press, 2018, 294 pages

The Hitchhiker's Guide to the Galaxy meets Eurovision in an over-the-top galactic science fiction spectacle from best-selling author Catherynne Valente where sentient races compete for glory in a universe-wide musical contest - where the stakes are as high as the fate of planet Earth.

A century ago, the Sentience Wars tore the galaxy apart and nearly ended the entire concept of intelligent space-faring life. In the aftermath, a curious tradition was invented - something to cheer up everyone who was left and bring the shattered worlds together in the spirit of peace, unity, and understanding.

Once every cycle, the civilizations gather for the Metagalactic Grand Prix - part gladiatorial contest, part beauty pageant, part concert extravaganza, and part continuation of the wars of the past. Instead of competing in orbital combat, the powerful species that survived face off in a competition of song, dance, or whatever can be physically performed in an intergalactic talent show. The stakes are high for this new game, and everyone is forced to compete.

This year, though, humankind has discovered the enormous universe. And while they expected to discover a grand drama of diplomacy, gunships, wormholes, and stoic councils of aliens, they have instead found glitter, lipstick, and electric guitars. Mankind will not get to fight for its destiny - they must sing.

A band of human musicians, dancers, and roadies have been chosen to represent Earth on the greatest stage in the galaxy. And the fate of their species lies in their ability to rock.

(
Eurovision in spaaace!
Collapse
)
Also by Catherynne M. Valente
: My reviews of
The Girl Who Circumnavigated Fairyland in a Ship of Her Own Making
,
The Girl Who Fell Beneath Fairyland and Led the Revels There
,
The Girl Who Soared Over Fairyland and Cut the Moon in Two
,
The Habitation of the Blessed
,
Silently and Very Fast
,
Deathless
, and
Six-Gun Snow White
.
---
My complete list of book reviews.
A revenge tale in spaaaaaaaace!
Berkley, 1955, 258 pages

Marooned in outer space after an attack on his ship, Nomad, Gulliver Foyle lives to obsessively pursue the crew of a rescue vessel that had intended to leave him to die.

When it comes to pop culture, Alfred Bester (1913-1987) is something of an unsung hero. He wrote radio scripts, screenplays, and comic books (in which capacity he created the original Green Lantern Oath). But Bester is best known for his science fiction novels, and The Stars My Destination may be his finest creation. With its sly potshotting at corporate skullduggery, The Stars My Destination seems utterly contemporary, and has maintained its status as an underground classic for over 50 years.

(
The Count of Monte Cristo in a pulp SF adventure.
Collapse
)
---
My complete list of book reviews.
A newly minted lawyer gets a capital case in a cliched courtroom drama.
Thomas & Mercer, 2014, 178 pages

With money and hope in short supply, newly minted attorney Brigham Theodore decides it's time to lower his standards. He joins a seedy fly-by-night firm in Salt Lake City out of desperation. After he loses his first case - a speeding ticket - he's convinced his career is over. But to his shock, his boss hands him a slightly more complex case: capital murder.

Brigham's new client is Amanda Pierce, a lost, exhausted woman who gunned down the man who tortured and killed her six-year-old daughter. A jury may prove sympathetic to her unbearable pain, but the law is no fan of vigilante justice - and neither is Vince Dale, the slick and powerful prosecutor who's never lost a murder case. There's no question that Amanda pulled the trigger - she did it in front of five witnesses. If she pleads guilty, she will avoid a death sentence, but saving her life this way comes with an admission that what she did was wrong. However, if she refuses the "guilty" label, Brigham will have no choice but to fight for his career - and Amanda's life.

(
A Salt Lake City Lawyer named Brigham...
Collapse
)
---
My complete list of book reviews.
A novel about class, money, and the Victorian marriage market.
Originally published in 1858, 557 pages. Available for free on Project Gutenberg.

Anthony Trollope once said, "A novel should give a picture of common life enlivened by humour and sweetened by pathos." Trollope admirably fulfills his own criteria in this charming third novel in the Chronicles of Barsetshire.

Doctor Thorne adopts his niece Mary, keeping secret her illegitimate birth as he introduces her to the best local social circles. There she meets and falls in love with Frank Gresham - the heir to a vastly mortgaged estate and obliged to find a wealthy wife. Only Doctor Thorne knows that Mary is to inherit a large legacy that will make her acceptable to the otherwise disapproving middle-class society to which Frank belongs. Where fiery passion fails, understated English virtues of patience, persistence, and good humor prevail in this most appealing of Trollope's comedies.
(
Not quite a comedy of manners, but lighter than Trollope's other work.
Collapse
)
Also by Anthony Trollope
: My reviews of
Can You Forgive Her?
and
The Way We Live Now
.
---
My complete list of book reviews.
A dangerous sport for thrill-seeking aquatics.
Houghton Mifflin Harcourt, 2014, 272 pages

Deep is a voyage from the ocean's surface to its darkest trenches, the most mysterious places on Earth. Fascinated by the sport of freediving - in which competitors descend to great depths on a single breath - James Nestor embeds with a gang of oceangoing extreme athletes and renegade researchers. He finds whales that communicate with other whales hundreds of miles away, sharks that swim in unerringly straight lines through pitch-black waters, and other strange phenomena. Most illuminating of all, he learns that these abilities are reflected in our own remarkable and often hidden potential - including echolocation, directional sense, and the profound bodily changes humans undergo when underwater. Along the way Nestor unlocks his own freediving skills as he communes with the pioneers who are expanding our definition of what is possible in the natural world - and in ourselves.
(
Stupid human tricks.
Collapse
)
---
My complete list of book reviews.