Time travelers in search of the American Dream.
Crown, 2017, 373 pages

Nothing ever changes in Sanders. The town's still got a video store, for God's sake.

So why doesn't Eli Teague want to leave?

Not that he'd ever admit it, but maybe he's been waiting - waiting for the traveler to come back. The one who's roared into his life twice before, pausing just long enough to drop tantalizing clues before disappearing in a cloud of gunfire and a squeal of tires. The one who's a walking anachronism, with her tricorne hat, flintlock rifle, and steampunked Model A Ford.

The one who's being pursued by...something.

So when the mysterious traveler finally reappears, Eli's determined that this time, he's going to get some answers. But his hunt soon yields far more than he bargained for, plunging him headlong into a dizzying world full of competing factions and figures straight out of legend.

To make sense of the mystery at its heart, he must embark on a breakneck chase across the country and through two centuries of history - with nothing less than America's past, present, and future at stake.

(
An entertaining if forgettable caper.
Collapse
)
Also by Peter Clines
: My reviews of
Ex-Heroes
,
Ex-Patriots
,
Ex-Communication
,
Ex-Purgatory
,
14
, and
The Fold
.
---
My complete list of book reviews.
Book two features Fantasy Jihadists vs. Fantasy Tolkien Adventurers.
HarperVoyager, 2010, 578 pages

Peter Brett's The Desert Spear continues the post-apocalyptic adventure he began in his highly acclaimed debut, The Warded Man.

The world remains under siege by demonkind stalking the land when the sun goes down. But a new hero has risen from the desert. Claiming to be the mythical Deliverer, Ahmann Jardir now rides alongside the allied desert tribes of Krasia. Jardir and his fellows are on an epic quest to vanquish the demons plaguing the world and bring humanity back from the brink of extinction.

(
It's hard to root for the good guys when you'd rather see the demons eat them all.
Collapse
)
Also by Peter Brett
: My review of
The Warded Man
.
---
My complete list of book reviews.
Madness and murder in the backwoods of Alaska.
Kensington Publishing Corporation, 2017, 384 pages

Paul Gallo saw the report on the news: a mass murderer leading police to his victims' graves in remote Dread's Hand, Alaska.

It's not even a town; more like the bad memory of a town. The same bit of wilderness where his twin brother went missing a year ago. As the bodies are exhumed, Paul travels to Alaska to get closure and put his grief to rest.

But the mystery is only beginning. What Paul finds are superstitious locals who talk of the devil stealing souls, and a line of wooden crosses to keep what's in the woods from coming out. He finds no closure because no one can explain exactly what happened to Danny.

And the more he searches for answers, the more he finds himself becoming part of the mystery...

(
A murder mystery that slowly unravels as a horror novel.
Collapse
)
---
My complete list of book reviews.
A post-apocalyptic story about a traveling theater company.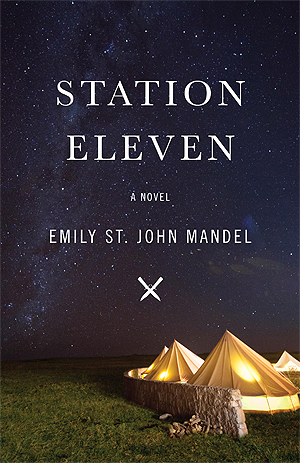 Knopf, 2014, 336 pages

An audacious, darkly glittering novel set in the eerie days of civilization's collapse, Station Eleven tells the spellbinding story of a Hollywood star, his would-be savior, and a nomadic group of actors roaming the scattered outposts of the Great Lakes region, risking everything for art and humanity.

One snowy night Arthur Leander, a famous actor, has a heart attack onstage during a production of King Lear. Jeevan Chaudhary, a paparazzo-turned-EMT, is in the audience and leaps to his aid. A child actress named Kirsten Raymonde watches in horror as Jeevan performs CPR, pumping Arthur's chest as the curtain drops, but Arthur is dead. That same night, as Jeevan walks home from the theater, a terrible flu begins to spread. Hospitals are flooded and Jeevan and his brother barricade themselves inside an apartment, watching out the window as cars clog the highways, gunshots ring out, and life disintegrates around them.

Fifteen years later, Kirsten is an actress with the Traveling Symphony. Together, this small troupe moves between the settlements of an altered world, performing Shakespeare and music for scattered communities of survivors. Written on their caravan, and tattooed on Kirsten's arm is a line from Star Trek: "Because survival is insufficient." But when they arrive in St. Deborah by the Water, they encounter a violent prophet who digs graves for anyone who dares to leave.

Spanning decades, moving back and forth in time, and vividly depicting life before and after the pandemic, this suspenseful, elegiac novel is rife with beauty. As Arthur falls in and out of love, as Jeevan watches the newscasters say their final good-byes, and as Kirsten finds herself caught in the crosshairs of the prophet, we see the strange twists of fate that connect them all. A novel of art, memory, and ambition, Station Eleven tells a story about the relationships that sustain us, the ephemeral nature of fame, and the beauty of the world as we know it.


(
The Stand, with a prologue and post-script.
Collapse
)
---
My complete list of book reviews.
A legal thriller about "bad blood" and badly behaving teens.
Delacorte Press, 2012, 421 pages

Andy Barber has been an assistant district attorney in his suburban Massachusetts county for more than 20 years. He is respected in his community, tenacious in the courtroom, and happy at home with his wife, Laurie, and son, Jacob. But when a shocking crime shatters their New England town, Andy is blindsided by what happens next: his 14-year-old son is charged with the murder of a fellow student.

Every parental instinct Andy has rallies to protect his boy. Jacob insists that he is innocent, and Andy believes him. Andy must. He's his father. But as damning facts and shocking revelations surface, as a marriage threatens to crumble and the trial intensifies, and as the crisis reveals how little a father knows about his son, Andy will face a trial of his own - between loyalty and justice, between truth and allegation, between a past he's tried to bury and a future he cannot conceive.

Award-winning author William Landay has written the consummate novel of an embattled family in crisis - a suspenseful, character-driven mystery that is also a spellbinding tale of guilt, betrayal, and the terrifying speed at which our lives can spin out of control.

(
When your son might be a psycho.
Collapse
)
---
My complete list of book reviews.
A single mom detective against a serial killer who might be a demon.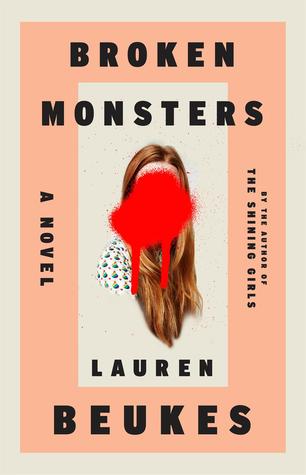 Mulholland Books, 2014, 442 pages

A criminal mastermind creates violent tableaus in abandoned Detroit warehouses in Lauren Beukes's new genre-bending novel of suspense.

Detective Gabriella Versado has seen a lot of bodies. But this one is unique even by Detroit's standards: half boy, half deer, somehow fused together. As stranger and more disturbing bodies are discovered, how can the city hold on to a reality that is already tearing at its seams?

If you're Detective Versado's geeky teenage daughter, Layla, you commence a dangerous flirtation with a potential predator online. If you're desperate freelance journalist Jonno, you do whatever it takes to get the exclusive on a horrific story. If you're Thomas Keen, known on the street as TK, you'll do what you can to keep your homeless family safe - and find the monster who is possessed by the dream of violently remaking the world.

If Lauren Beukes's internationally best-selling The Shining Girls was a time-jumping thrill ride through the past, her Broken Monsters is a genre-redefining thriller about broken cities, broken dreams, and broken people trying to put themselves back together again.

(
A few too many elements tossed together to make a salad of an urban fantasy thriller.
Collapse
)
Also by Lauren Beukes
: My reviews of
Zoo City
and
The Shining Girls
.
---
My complete list of book reviews.
Big cats, an inland lighthouse, and deals with the devil.
Little, Brown, and Company, 2011, 357 pages

In an isolated stretch of Eastern Kentucky, on a hilltop known as Blade Ridge, stands a lighthouse that illuminates nothing but the surrounding woods. For years the lighthouse has been considered no more than an eccentric local landmark - until its builder is found dead at the top of the light, and his belongings reveal a troubling local history.

For Deputy Sheriff Kevin Kimble, the lighthouse-keeper's death is disturbing and personal. Years ago Kimble was shot while on duty. Somehow the death suggests a connection between the lighthouse and the most terrifying moment of his life.

Audrey Clark is in the midst of moving her large-cat sanctuary onto land adjacent to the lighthouse. Sixty-seven tigers, lions, and leopards and one legendary black panther are about to have a new home there. Her husband, the sanctuary's founder, died scouting the new property, and Audrey is determined to see his vision through.

As strange occurrences multiply at the Ridge, the animals grow ever more restless, and Kimble and Audrey try to understand what evil forces are moving through this ancient landscape, just past the divide between dark and light.
(
A supernatural thriller for cat-lovers.
Collapse
)
---
My complete list of book reviews.
Realperson fic starring H.P. Lovecraft in a gay soap opera.
Penguin Press, 2017, 389 pages

From the award-winning author and New Yorker contributor, a riveting novel about secrets and scandals, psychiatry and pulp fiction, inspired by the lives of H. P. Lovecraft and his circle.

Marina Willett, MD, has a problem. Her husband, Charlie, has become obsessed with H. P. Lovecraft, in particular with one episode in the legendary horror writer's life: In the summer of 1934, the "old gent" lived for two months with a gay teenage fan named Robert Barlow, at Barlow's family home in central Florida. What were the two of them up to? Were they friends - or something more? Just when Charlie thinks he's solved the puzzle, a new scandal erupts, and he disappears. The police say it's suicide. Marina is a psychiatrist, and she doesn't believe them.

A tour-de-force of storytelling, The Night Ocean follows the lives of some extraordinary people: Lovecraft, the most influential American horror writer of the 20th century, whose stories continue to win new acolytes, even as his racist views provoke new critics; Barlow, a seminal scholar of Mexican culture who killed himself after being blackmailed for his homosexuality (and who collaborated with Lovecraft on the beautiful story "The Night Ocean"); his student, future Beat writer William S. Burroughs; and L. C. Spinks, a kindly Canadian appliance salesman and science-fiction fan - the only person who knows the origins of The Erotonomicon, purported to be the intimate diary of Lovecraft himself.

As a heartbroken Marina follows her missing husband's trail in an attempt to learn the truth, the novel moves across the decades and along the length of the continent, from a remote Ontario town, through New York and Florida to Mexico City. The Night Ocean is about love and deception - about the way that stories earn our trust, and betray it.

(
What's squickier than Shoggoths in love? Fictional gay erotica by H.P. Lovecraft.
Collapse
)
---
My complete list of book reviews.
Humans are the invaders in an Uplifting story about spiders.
Pan Macmillan, 2015, 600 pages

Adrian Tchaikovksy's critically acclaimed stand-alone novel Children of Time is the epic story of humanity's battle for survival on a terraformed planet.

Who will inherit this new Earth?

The last remnants of the human race left a dying Earth, desperate to find a new home among the stars. Following in the footsteps of their ancestors, they discover the greatest treasure of the past age - a world terraformed and prepared for human life.

But all is not right in this new Eden. In the long years since the planet was abandoned, the work of its architects has borne disastrous fruit. The planet is not waiting for them pristine and unoccupied. New masters have turned it from a refuge into mankind's worst nightmare.

Now two civilizations are on a collision course, both testing the boundaries of what they will do to survive. As the fate of humanity hangs in the balance, who are the true heirs of this new Earth?


(
The best SF novel I've read this year, ranks with Vernor Vinge.
Collapse
)
---
My complete list of book reviews.
The heroes of Destroyer Squadron 21.
Da Capo Press, 2017, 320 pages

When Admiral William Halsey selected Destroyer Squadron 21 to lead his victorious ships into Tokyo Bay to accept the Japanese surrender, it was the most battle-hardened US naval squadron of the war.

But it was not the squadron of ships that had accumulated such an inspiring résumé; it was the people serving aboard them. Sailors, not metallic superstructures and hulls, had won the battles and become the stuff of legend. Men like Commander Donald MacDonald, skipper of the USS O'Bannon, who became the most decorated naval officer of the Pacific war; Lieutenant Hugh Barr Miller, who survived his ship's sinking and waged a one-man battle against the enemy while stranded on a Japanese-occupied island; and Doctor Dow "Doc" Ransom, the beloved physician of the USS La Vallette, who combined a mixture of humor and medical expertise to treat his patients at sea epitomize the sacrifices made by all the men and women of World War II.

Through diaries, personal interviews with survivors, and letters written to and by the crews during the war, preeminent historian of the Pacific theater John Wukovits brings to life the human story of the squadron and its men, who bested the Japanese in the Pacific and helped take the war to Tokyo.

(
Life aboard a tiny warship that could get bombed, torpedoed, or shelled at any time.
Collapse
)
---
My complete list of book reviews.