A generation ship story in which the AI is the main character.
Orbit, 2015, 466 pages

A major new novel from one of science fiction's most powerful voices, Aurora tells the incredible story of our first voyage beyond the solar system.

Brilliantly imagined and beautifully told, it is the work of a writer at the height of his powers.

Our voyage from Earth began generations ago.

Now we approach our new home.

Aurora.

(
What happens if they decide to turn back?
Collapse
)
Also by Kim Stanley Robinson
: My review of
Red Mars
.
---
My complete list of book reviews.
Life among amoral posh Brits - what money, entitlement, and living in a moral vacuum does to families.
Penguin Books, 2016, 390 pages

Real estate mogul Sean Jackson is throwing himself a splashy 50th birthday party, but trouble starts almost immediately: His ex-wife has sent his teenage daughters to the party without telling him; his current wife has fired the nanny; and he's finding it difficult to sneak away to his mistress. Then something truly terrible happens: one of his three-year-old twins goes missing. No trace of her is ever found. The attendees of the party, nicknamed the Jackson Associates by the press, become infamous overnight. Twelve years later, Sean is dead. The Jackson Associates assemble for the funeral, together for the first time since that fateful weekend. Soon the barbed comments and accusations are flying. By the end of the weekend, one will be dead. And one of Sean's daughters will make a shocking discovery.

(
Alex Marwood writes like J.K. Rowling if Rowling hadn't started with children's books and wasn't rich now.
Collapse
)
Also by Alex Marwood
: My reviews of
The Wicked Girls
and
The Killer Next Door
.
---
My complete list of book reviews.
One girl got away, one girl didn't.
Kensington Publishing Corporation, 2017, 340 pages

Charlie Donlea, one of the most original new voices in suspense, returns with a haunting novel, laden with twists and high tension, about two abducted girls - one who returns, one who doesn't - and the forensics expert searching for answers.

Nicole Cutty and Megan McDonald are both high school seniors in the small town of Emerson Bay, North Carolina. When they disappear from a beach party one warm summer night, police launch a massive search. No clues are found, and hope is almost lost until Megan miraculously surfaces after escaping from a bunker deep in the woods. A year later the best-selling account of her ordeal has turned Megan from local hero to national celebrity. It's a triumphant, inspiring story except for one inconvenient detail: Nicole is still missing.

Nicole's older sister, Livia, a fellow in forensic pathology, expects that one day soon Nicole's body will be found, and it will be up to someone like Livia to analyze the evidence and finally determine her sister's fate. Instead the first clue to Nicole's disappearance comes from another body that shows up in Livia's morgue - that of a young man connected to Nicole's past. Livia reaches out to Megan for help, hoping to learn more about the night the two were taken. Other girls have gone missing, too, and Livia is increasingly certain the cases are connected. But Megan knows more than she revealed in her blockbuster book. Flashes of memory are coming together, pointing to something darker and more monstrous than her chilling memoir describes. And the deeper she and Livia dig, the more they realize that sometimes true terror lies in finding exactly what you've been looking for.

(
Abducted girls, a serial killer, and a kidnapping fan club.
Collapse
)
---
My complete list of book reviews.
A cozy WWII mystery with a bit of Bletchley Park.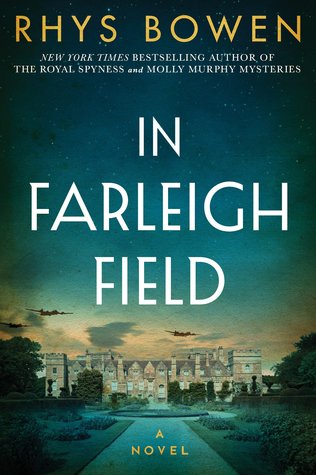 Lake Union Publishing, 2017, 379 pages

World War II comes to Farleigh Place, the ancestral home of Lord Westerham and his five daughters, when a soldier with a failed parachute falls to his death on the estate. After his uniform and possessions raise suspicions, MI5 operative and family friend Ben Cresswell is covertly tasked with determining if the man is a German spy. The assignment also offers Ben the chance to be near Lord Westerham's middle daughter, Pamela, whom he furtively loves. But Pamela has her own secret: She has taken a job at Bletchley Park, the British code-breaking facility.

As Ben follows a trail of spies and traitors, which may include another member of Pamela's family, he discovers that some within the realm have an appalling, history-altering agenda. Can he, with Pamela's help, stop them before England falls?

Inspired by the events and people of World War II, writer Rhys Bowen crafts a sweeping and riveting saga of class, family, love, and betrayal.

(
Mysterious lovers returned from overseas, dead paratroopers, and code-breaking!
Collapse
)
---
My complete list of book reviews.
Starts with a plane crash, feels like Lost, turns into a sci-fi caper.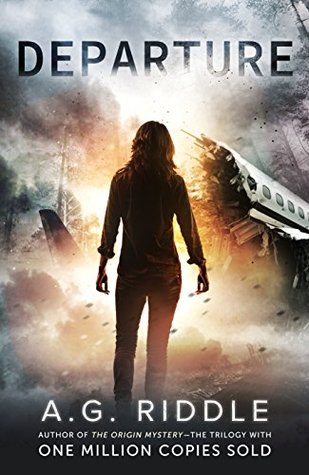 Riddle, Inc., 2014, 318 pages

En route to London from New York, Flight 305 suddenly loses power and crash-lands in the English countryside, plunging a group of strangers into a mysterious adventure that will have repercussions for all of humankind.

Struggling to stay alive, the survivors soon realize that the world they've crashed in is very different from the one they left. But where are they? Why are they here? And how will they get back home?

Five passengers seem to hold clues about what's really going on: writer Harper Lane, venture capitalist Nick Stone, German genetic researcher Sabrina Schröder, computer scientist Yul Tan, and Grayson Shaw - the son of a billionaire philanthropist.

As more facts about the crash emerge, it becomes clear that some in this group know more than they're letting on - answers that will lead Harper and Nick to uncover a far-reaching conspiracy involving their own lives. As they begin to piece together the truth, they discover they have the power to change the future and the past - to save our world...or end it.

(
More interesting before the Big Reveal. Spoilers inside.
Collapse
)
---
My complete list of book reviews.
A love story about horses. Also, there's a girl.
Knopf, 1992, 302 pages

Cormac McCarthy is a quiet, unassuming presence in American fiction today, but like the slow, measured voices of many of his characters, he speaks with an authority and conviction that demands an audience. All the Pretty Horses, McCarthy's sixth novel, is a cowboy odyssey for modern times. Set in the late 1940s, it features the travels and toils of a 16-year-old East Texan named John Grady Cole, caught in the agonizing purgatory between adolescence and adulthood.

At the start of the novel, Cole's grandfather has just died, his parents have permanently separated, and the family ranch, upon which he had placed so many boyish hopes, has been sold. Rootless and increasingly restive, Cole leaves Texas, accompanied by his friend Lacey Rawlins, and begins a journey across the vaquero frontier into the badlands of northern Mexico. In spite of its hard realities and spare telling, All the Pretty Horses is a lyrical and richly romantic story, chronicling - along with the erosion of the frontier - the loss of an era.

(
Horse rasslin', jail fights, and romancing a rich man's daughter in Mexico.
Collapse
)
Also by Cormac McCarthy
: My reviews of
Blood Meridian: or The Evening Redness in the West
,
No Country for Old Men
,
The Road
and
Suttree
.
---
My complete list of book reviews.
Searching through a sea of Lovecraft anthologies for gems.
Lovecraft Ezine Press, 2016, 408 pages

H.P. Lovecraft, the American master of horror, understood with horrible clarity that all things must die. After summer is winter, and life inevitably gives way to frozen sterility. In our modern world, we live cushioned existences, and congratulate ourselves on our supposed escape from the old dangers. We think ourselves caught out of nature's reach by our technological wizardry. Safely cocooned. This foolishness blinds us to the truth that our elder forebears could not avoid. Engulfed by the rhythms of the world, they understood... Autumn means death.

There are far worse fates than mere death, of course. As blight spreads, the leaves wither and fall - as do the most important foundations of life. There is nothing more horrible than watching the sources of meaning in your world unravel before you. But these things we cherish are just pretty lies. In autumn's cold grasp, the bright petals of our reality shrivel and die. Beneath them, there is nothing but the insanity of the howling void. Faced with inevitable, agonizing corruption, death is a gentle blessing.

The stories collected in Autumn Cthulhu reflect the darkest, most ancient truths of the season. Inside, you'll find nineteen beautiful, terrifying glimpses of decay and loss inspired by Lovecraft's work. Be sure that you want the burden of understanding before venturing further, though. The dissolving strands of mind, of love, of legacy within leave no room for merciful doubt.

The true meaning of life is that there is no meaning.

(
Lots of horror, lots of autumn, not a lot of Cthulhu.
Collapse
)
---
My complete list of book reviews.
Claustrophobia, paranoia, and abyssal horrors.
Gallery Books, 2015, 394 pages

A strange plague called the "Gets" is decimating humanity on a global scale. It causes people to forget - small things at first, like where they left their keys... then the not-so-small things like how to drive, or the letters of the alphabet. Then their bodies forget how to function involuntarily - and there is no cure. But now, far below the surface of the Pacific Ocean, deep in the Marianas Trench, an heretofore unknown substance hailed as "ambrosia" has been discovered - a universal healer, from initial reports. It may just be the key to a universal cure. In order to study this phenomenon, a special research lab, the Trieste, has been built eight miles under the sea's surface. But now the station is incommunicado, and it's up to a brave few to descend through the lightless fathoms in hopes of unraveling the mysteries lurking at those crushing depths - and perhaps to encounter an evil blacker than anything one could possibly imagine.

Part horror, part psychological nightmare, The Deep is a novel that fans of Stephen King and Clive Barker won't want to miss - especially if you're afraid of the dark.

(
It's a haunted house at the bottom of the ocean.
Collapse
)
Also by Nick Cutter
: My reviews of
The Troop
and
Little Heaven
.
---
My complete list of book reviews.
A tepid but literary sequel to Summer of Night.
HarperTorch, 2002, 371 pages

A once-respected college professor and novelist, Dale Stewart has sabotaged his career and his marriage - and now darkness is closing in on him. In the last hours of Halloween, he has returned to the dying town of Elm Haven, his boyhood home, where he hopes to find peace in isolation. But moving into a long-deserted farmhouse on the far outskirts of town - the one-time residence of a strange and brilliant friend who lost his young life in a grisly "accident" back in the terrible summer of 1960 - is only the latest in his long succession of recent mistakes. Because Dale is not alone here. He has been followed to this house of shadows by private demons who are now twisting his reality into horrifying new forms. And a thick, blanketing early snow is starting to fall.

(
A haunted twist to the aging-college-professor-who-bangs-grad-students story.
Collapse
)
Also by Dan Simmons
: My reviews of
Hyperion
,
The Fall of Hyperion
,
Endymion
,
The Rise of Endymion
,
Ilium
,
Olympos
, and
Summer of Night
.
---
My complete list of book reviews.
Investigators vs. an R-rated haunted house.
Viking, 1971, 279 pages

For over 20 years, Belasco House has stood empty. Regarded as the Mt. Everest of haunted houses, its shadowed walls have witnessed scenes of unimaginable horror and depravity. All previous attempts to probe its mysteries have ended in murder, suicide, or insanity.

But now, a new investigation has been launched, bringing four strangers to Belasco House in search of the ultimate secrets of life and death. A wealthy publisher, brooding over his impending death, has paid a physicist and two mediums to establish the facts of life after death once and for all. For one night, they will investigate the Belasco House and learn exactly why the townsfolk refer to it as the Hell House.

Hell House, which inspired the 1973 film The Legend of Hell House, is Matheson's most frightening and shocking book, and an acknowledged classic of the genre.

(
A killer haunted house and a ghost who wants to bang all the chicks. Also a review of the movie The Legend of Hell House.
Collapse
)
Also by Richard Matheson
: My reviews of
I Am Legend
and
Shadow on the Sun
.
---
My complete list of book reviews.