A Hollywood liberal joins the dark side.
Sentinel, 2011, 256 pages

For the past 30 years, David Mamet has been a controversial and defining force in theater and film, championing the most cherished liberal values along the way. In some of the great movies and plays of our time, his characters have explored the ethics of the business world, embodied the struggles of the oppressed, and faced the flaws of the capitalist system. But in recent years Mamet has had a change of heart. He realized that the so-called mainstream media outlets he relied on were irredeemably biased, peddling a hypocritical and deeply flawed worldview. In 2008 he wrote a hugely controversial op-ed for the Village Voice, "Why I Am No Longer a 'Brain-Dead Liberal,'" in which he methodically eviscerated liberal beliefs. Now he goes much deeper, employing his trademark intellectual force and vigor to take on all the key political and cultural issues of our times, from religion to political correctness to global warming. Mamet pulls no punches in his art or in his politics. And as a former liberal who woke up, he will win over an entirely new audience of others who have grown irate over America's current direction.

(
I stopped being a liberal without really changing much; David Mamet became a ranting right-winger in like manner.
Collapse
)
---
My complete list of book reviews.
An old cowboy PI contends with drug dealers, drunken Indians, and crazy exes.
Minotaur Books, 2014, 292 pages

Winner of the Tony Hillerman Prize, Bad Country is a debut mystery set in the Southwest starring a former rodeo cowboy turned private investigator, told in a transfixingly original style.

Rodeo Grace Garnet lives alone, save for his old dog, in a remote corner of Arizona known to locals as the Hole. He doesn't get many visitors, but a body found near his home has drawn police attention to his front door. The victim is not one of the many illegal immigrants who risk their lives to cross the border just south of the Hole, but is instead a member of one of the local Indian tribes.

Retired from the rodeo circuit and scraping by on piecework as a private investigator, Rodeo doesn't have much choice but to say yes when offered an unusual case. An elderly Indian woman has hired him to help find who murdered her grandson, but she seems strangely uninterested in the results. Her indifference seems heartless, but as Rodeo pursues his case, he learns that it's nothing compared to true hatred - and he's about to realize just how far hate can go.

C. B. McKenzie's Bad Country captures the rough-and-tumble corners of the Southwest in accomplished, confident prose, with a hard-nosed plot that will keep readers riveted.

(
The author does have the perfect name for a Southwestern, but if you get compared to Tony Hillerman you better live up to it.
Collapse
)
---
My complete list of book reviews.
Enemy of the State without Will Smith.
Thomas & Mercer, 2016, 418 pages

NSA director Theodore Anders has a simple goal: collect every phone call, email, and keystroke tapped on the Internet. He knows unlimited surveillance is the only way to keep America safe.

Evelyn Gallagher doesn't care much about any of that. She just wants to keep her head down and manage the NSA's camera network and facial recognition program so she can afford private school for her deaf son, Dash.

But when Evelyn discovers the existence of a program code-named God's Eye and connects it with the mysterious deaths of a string of journalists and whistle-blowers, her doubts put her and Dash in the crosshairs of a pair of government assassins: Delgado, a sadistic bomb maker and hacker, and Manus, a damaged giant of a man who until now has cared for nothing beyond protecting the director.

Within an elaborate game of political blackmail, terrorist provocations, and White House scheming, a global war is being fought - a war between those desperate to keep the state's darkest secrets and those intent on revealing them. A war that Evelyn will need all her espionage training and savvy to survive, because the director has the ultimate advantage: The God's Eye View.

(
Barry Eisler sucks harder than Oliver Stone.
Collapse
)
---
My complete list of book reviews.
A sprawling alternate history time-travel story that helped spawn the Steampunk fad.
Ace, 1983, 387 pages

When Brendan Doyle is flown from America to London to give a lecture on Samuel Taylor Coleridge, little does he expect that he will soon be traveling through time and meeting the poet himself. But Brendan could do without being stranded penniless in the teeming, thieving London of 1810.

Only the dazzling imagination of Tim Powers could have assembled such an insane cast of characters: an ancient Egyptian sorcerer; a modern millionaire; a body-switching werewolf; a hideously deformed clown; a young woman disguised as a boy; a brainwashed Lord Byron; and our hero, Brendan Doyle. The Anubis Gates took the fantasy world by storm decades ago, and now fans can savor this Philip K. Dick Award winner all over again.

(
Time travelers, werewolves, and Victorian London.
Collapse
)
---
My complete list of book reviews.
Tough NYPD detective investigates murders in Amish country, gets tingles from hot Amish widower.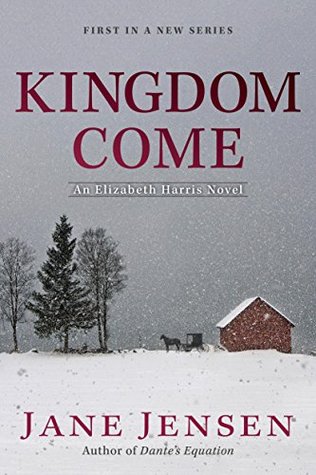 Berkley, 2016, 296 pages

In Kingdom Come, the first in a new mystery series from Jane Jensen, an ex-NYPD detective seeks escape in Amish country and finds darkness instead.

When a beautiful, scantily clad "English" girl is found dead in the barn of a prominent Amish family, Detective Elizabeth Harris knows she's uncovered an evil that could shatter the peace of Lancaster County, Pennsylvania. Even though Elizabeth's boss is convinced this was the work of an "English", as outsiders are called, Elizabeth isn't so sure. Now Elizabeth must track down a killer with deep ties to a community that always protects its own - no matter how deadly the cost.

(
At least there is no Amish Mafia.
Collapse
)
---
My complete list of book reviews.
If Veronica Mars were an aspiring serial killer.
Simon Pulse, 2014, 272 pages

She's not evil, but she has certain…urges.

Lane is a typical teenager - loving family, good grades, after-school job at the local animal hospital, martial arts enthusiast - but her secret obsession is studying serial killers. She understands them, knows what makes them tick. Why? Because she might be one herself.

Lane channels her dark impulses by hunting criminals - delivering justice when the law fails. The vigilantism stops shy of murder. But with each visceral rush the line of self-control blurs.

And then a young preschool teacher goes missing - only to return in parts.

When Lane excitedly gets involved in the hunt for "the Decapitator", the vicious serial murderer that has come to her hometown, she gets dangerously caught up in a web of lies about her birth dad and her own dark past. And once the Decapitator contacts Lane directly, Lane knows she is no longer invisible or safe. Now she needs to use her unique talents to find the true killer's identity before she - or someone she loves - becomes the next victim.

(
Serial killers and YA don"t mix.
Collapse
)
Verdict:
This is a Young Adult novel and it shows, giving the reader some salacious tidbits of sex and violence but none of it very realistic, with a protagonist we're supposed to believe is dark and dangerous and prepared to do dirty deeds, but who never becomes more than a somewhat violent thrill-seeker. 5/10.
---
My complete list of book reviews.
I'd been wanting to pick up
Chaos in the Old World
for a while. Though I have only played it a couple of times, and I think its spiritual successor,
Cthulhu Wars
, is a better game (albeit a much, much more expensive one), I decided I might as well go ahead and order it, just in case it became hard to get later.
Well, it turns out "later" was less than 24 hours after I placed my order. It's now sold out everywhere.
My copy arrived today:
The same day I saw this:
Damn, I should have snagged a few more copies.
Fantasy Flight Games just announced that its relationship with Games Workshop is ending, meaning that many popular boardgame titles it has licensed will soon be out of print.
In which Jim Crow is more of a threat than Nyarlathotep.
Harper, 2016, 372 pages

Critically acclaimed cult novelist Matt Ruff makes visceral the terrors of life in Jim Crow America and its lingering effects in this brilliant and wondrous work of the imagination that melds historical fiction, pulp noir, and Lovecraftian horror and fantasy.

Chicago, 1954. When his father, Montrose, goes missing, 22-year-old army veteran Atticus Turner embarks on a road trip to New England to find him, accompanied by his uncle George - publisher of The Safe Negro Travel Guide - and his childhood friend, Letitia. On their journey to the manor of Mr. Braithwhite - heir to the estate that owned one of Atticus' ancestors - they encounter both mundane terrors of white America and malevolent spirits that seem straight out of the weird tales George devours.

At the manor, Atticus discovers his father in chains, held prisoner by a secret cabal named the Order of the Ancient Dawn - led by Samuel Braithwhite and his son, Caleb - which has gathered to orchestrate a ritual that shockingly centers on Atticus. And his one hope of salvation may be the seed of his clan's destruction.

A chimerical blend of magic, power, hope, and freedom that stretches across time, touching diverse members of two black families, Lovecraft Country is a devastating kaleidoscopic portrait of racism - the terrifying specter that continues to haunt us today.

(
A better answer to Lovecraft"s racism than asinine outrage over statues.
Collapse
)
---
My complete list of book reviews.
The true-life story that was the basis for Moby Dick.
Viking, 1999, 302 pages

The ordeal of the whaleship Essex was an event as mythic in the nineteenth century as the sinking of the Titanic was in the twentieth. In 1819 the Essex left Nantucket for the South Pacific with 20 crew members aboard. In the middle of the South Pacific, the ship was rammed and sunk by an angry sperm whale. The crew drifted for more than 90 days in three tiny whaleboats, succumbing to weather, hunger, and disease and ultimately turning to drastic measures in the fight for survival.

Nathaniel Philbrick uses little-known documents, including a long-lost account written by the ship's cabin boy, and penetrating details about whaling and the Nantucket community to reveal the chilling events surrounding this epic maritime disaster. An intense and mesmerizing read, In the Heart of the Sea is a monumental work of history forever placing the Essex tragedy in the American historical canon.

(
I was rooting for the whale.
Collapse
)
---
My complete list of book reviews.
The definitive American novel about Vietnam.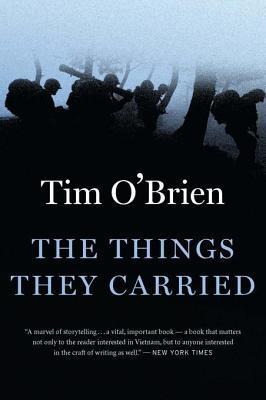 Mariner Books, 1990, 233 pages

A classic work of American literature that has not stopped changing minds and lives since it burst onto the literary scene, The Things They Carried is a ground-breaking meditation on war, memory, imagination, and the redemptive power of storytelling.

The Things They Carried depicts the men of Alpha Company: Jimmy Cross, Henry Dobbins, Rat Kiley, Mitchell Sanders, Norman Bowker, Kiowa, and the character Tim O'Brien, who has survived his tour in Vietnam to become a father and writer at the age of forty-three.

Taught everywhere—from high school classrooms to graduate seminars in creative writing—it has become required reading for any American and continues to challenge readers in their perceptions of fact and fiction, war and peace, courage and fear and longing.

The Things They Carried won France's prestigious Prix du Meilleur Livre Etranger and the Chicago Tribune Heartland Prize; it was also a finalist for the Pulitzer Prize and the National Book Critics Circle Award.

(
Fiction and history blur together.
Collapse
)
---
My complete list of book reviews.