A post-apocalytic dark fantasy about a twelve-year-old harper.
Haunted Stars Publishing, 2013, 185 pages

The Red Empress is the only home Erzelle has known since the day her family was lured aboard and murdered, victims of a grisly ritual meant to make the elite immortal. Erzelle plays her harp for the diners inside this ghoul-infested riverboat, knowing her own death looms, escaping through the music that's all she has left of her parents.

Her nightmare's upended in the space of a day by the arrival of Olyssa, a fellow musician, but so much more.

Erzelle is swept up in Olyssa's quest to find her ensorcelled sister Lilla, a journey across a mutated landscape that leads them to an enemy responsible for the deaths of millions. To stop the slaughter of countless more, the pair has no choice but to draw on the deadly magics that reshaped the world... a power that's as dangerous to its wielders as it is to its foes, that's killing Erzelle even as she fights to control it.

(
Atmospheric dark fantasy with music and black fire.
Collapse
)
---
My complete list of book reviews.
A brutal story about a girl with a mother who loves her but loves her abusive stepfather more.
Penguin Books, 1992, 336 pages

Greenville County, South Carolina, is a wild, lush place that is home to the Boatwright family - a tight-knit clan of rough-hewn, hard- drinking men who shoot up each other's trucks, and indomitable women who get married young and age too quickly. At the heart of this story is Ruth Anne Boatwright, known simply as Bone, a bastard child who observes the world around her with a mercilessly keen perspective. When her stepfather, Daddy Glen, "cold as death, mean as a snake", becomes increasingly more vicious toward her, Bone finds herself caught in a family triangle that tests the loyalty of her mother, Anney - and leads to a final, harrowing encounter from which there can be no turning back.

(
Who"s the greater villain: the victimizer or the one who stands by him?
Collapse
)
---
My complete list of book reviews.
The classic novel about Earth being invaded by pod people.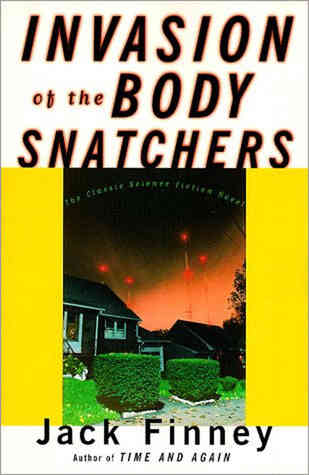 Touchstone, 1955, 228 pages

On a quiet fall evening in the small, peaceful town of Mill Valley, California, Dr. Miles Bennell discovered an insidious, horrifying plot. Silently, subtly, almost imperceptibly, alien life-forms were taking over the bodies and minds of his neighbors, his friends, his family, the woman he loved -- the world as he knew it.
First published in 1955, this classic thriller of the ultimate alien invasion and the triumph of the human spirit over an invisible enemy inspired three major motion pictures.

(
In which humans fight off an alien invasion just by being stubborn. With bonus reviews of ALL FOUR movie adaptations!
Collapse
)
Verdict:
Body Snatchers
is a classic that's worth reading for its historical impact on the genre, but it reads like what it is, a serialized 50s SF story. The four movies based on it range from good to pretty bad, and I wouldn't recommend you watch all four of them like certain obsessive book reviewers, but you should watch at least one (I recommend either the 1956 or the 1978 version). Rating: 6/10.
---
My complete list of book reviews.
God, Gods, Heroes, Robots, Monsters, Aliens, Literary References, Post-Humans, Epic SF Weirdness
Harper Voyager, 2005, 704 pages

Beneath the gaze of the gods, the mighty armies of Greece and Troy met in fierce and glorious combat, scrupulously following the text set forth in Homer's timeless narrative. But that was before 21st-century scholar Thomas Hockenberry stirred the bloody brew, causing an enraged Achilles to join forces with his archenemy, Hector, and turn his murderous wrath on Zeus and the entire pantheon of divine manipulators; before the swift and terrible mechanical creatures that catered for centuries to the pitiful idle remnants of Earth's human race began massing in the millions, to exterminate rather than serve.

And now all bets are off.

(
Prospero battles Caliban, the Demogorgon strikes down Zeus, and pretty much all Greeks are assholes.
Collapse
)
Also by Dan Simmons
: My reviews of
Hyperion
,
The Fall of Hyperion
,
Endymion
,
The Rise of Endymion
,
Ilium
, and
Summer of Night
.
---
My complete list of book reviews.
A hacker in an unnamed Middle Eastern country accidentally starts a revolution, with a little help from djinn.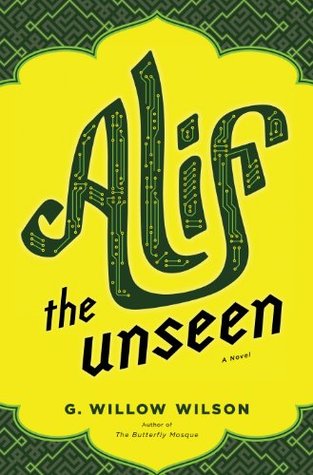 Grove Press, 2012, 320 pages

Alif has encountered three strokes of bad luck. The aristocratic woman he loves has jilted him, leaving him with only a mysterious book of fairytales. The state censorship apparatus of the emirate where he lives has broken into his computer, compromising his business providing online freedom for clients across the Islamic world. And now the security police have shown up at his door. But when Alif goes underground, he will encounter a menagerie of mythical creatures and end up on a mad dash through faith, myth, cyberspace, love, and revolution.

(
A more optimistic, fantasy-tinged version of the Arab Spring.
Collapse
)
---
My complete list of book reviews.
Get your Johns, Dicks, and Harrys straight — the kings of England in the Middle Ages.
Viking, 2012, 534 pages

The first Plantagenet king inherited a blood-soaked kingdom from the Normans and transformed it into an empire that stretched at its peak from Scotland to Jerusalem. In this epic history, Dan Jones vividly resurrects this fierce and seductive royal dynasty and its mythic world. We meet the captivating Eleanor of Aquitaine, twice queen and the most famous woman in Christendom; her son, Richard the Lionheart, who fought Saladin in the Third Crusade; and King John, a tyrant who was forced to sign Magna Carta, which formed the basis of our own Bill of Rights. This is the era of chivalry, Robin Hood, and the Knights Templar, the era of the Black Death, the Black Prince, the founding of Parliament, and the Hundred Years' War.

(
They were playing Game of Thrones before the Lancasters.
Collapse
)
---
My complete list of book reviews.
Middle America, 1960s, boys' adventure, ancient evil.
Putnam Publishing, 1991, 555 pages

It's the summer of 1960 and in the small town of Elm Haven, Illinois, five twelve-year-old boys are forging the powerful bonds that a lifetime of change will not break. From sunset bike rides to shaded hiding places in the woods, the boys' days are marked by all of the secrets and silences of an idyllic childhood. But amid the sun-drenched cornfields, their loyalty will be pitilessly tested. When a long-silent bell peals in the middle of the night, the townsfolk know it marks the end of their carefree days. From the depths of the Old Central School, a hulking fortress tinged with the mahogany scent of coffins, an invisible evil is rising. Strange and horrifying events begin to overtake everyday life, spreading terror through the once-peaceful town. Determined to exorcize this ancient plague, Mike, Duane, Dale, Harlen, and Kevin must wage a war of blood against an arcane abomination who owns the night....

(
Dan Simmons writing in Stephen King"s shadow.
Collapse
)
Also by Dan Simmons
: My reviews of
Hyperion
,
The Fall of Hyperion
,
Endymion
,
The Rise of Endymion
, and
Ilium
.
---
My complete list of book reviews.
Two alien races fight a war on a ruined Earth.
Subterranean Press, 2015, 441 pages

World Fantasy Award-winning, best-selling author Robert McCammon makes a triumphant return to the epic horror and apocalyptic tone reminiscent of his books Swan Song and Stinger in this gripping new novel, The Border, a saga of an Earth devastated by a war between two marauding alien civilizations.

But it is not just the living ships of the monstrous Gorgons or the motion-blurred shock troops of the armored Cyphers that endanger the holdouts in the human bastion of Panther Ridge. The world itself has turned against the handful of survivors, as one by one they succumb to despair and suicide or, even worse, are transformed by otherworldly pollution into hideous Gray Men, cannibalistic mutants driven by insatiable hunger. Into these desperate circumstances comes an amnesiac teenaged boy who names himself Ethan - a boy who must overcome mistrust and suspicion to master unknowable powers that may prove to be the last hope for humanity's salvation. Those same powers make Ethan a threat to the warring aliens, long used to fearing only each other, and thrust him and his comrades into ever more perilous circumstances.

A major new novel from the unparalleled imagination of Robert McCammon, this dark epic of survival will both thrill listeners and make them fall in love with his work all over again.

(
The literary equivalent of a cheesy Hollywood blockbuster with overwhelming special effects and a paper-thin story.
Collapse
)
Also by Robert McCammon
: My reviews of
Swan Song
and
Speaks the Nightbird
.
---
My complete list of book reviews.
One year after The Day, the author invokes fear and loathing of the federal government.
Forge Books, 2015, 304 pages

Months before publication, One Second After was cited on the floor of Congress as a book all Americans should have, a book discussed in the corridors of the Pentagon as a truly realistic look at the dangers of EMPs. An EMP is a weapon with the power to destroy the entire United States in a single act of terrorism in a single second; Indeed, it is a weapon that the Wall Street Journal warns could shatter America. One Second After was a dire warning of what might be our future... and our end.

One Year After returns to the small town of Black Mountain and the man who struggled to rebuild it in the wake of devastation: John Matherson. It is a thrilling follow-up and should delight fans in every way.

(
A decent sequel, but not a gripping one.
Collapse
)
Also by William R. Forstchen
: My review of
One Second After
.
---
My complete list of book reviews.
A grimdark modern sorcerer fights grimdark villains grimdarkly in this grimdark urban fantasy.
Tor, 2015, 320 pages

In the more shadowy corners of the world, frequented by angels and demons and everything in between, Laytham Ballard is a legend. It's said he raised the dead at the age of 10, stole the Philosopher's Stone in Vegas back in 1999, and survived the bloodsucking kiss of the Mosquito Queen. Wise in the hidden ways of the night, he's also a cynical bastard who stopped thinking of himself as the good guy a long time ago.

Now a promise to a dying friend has Ballard on the trail of an escaped Serbian war criminal with friends in both high and low places - and a sinister history of blood sacrifices. Ballard is hell-bent on making Dusan Slorzack pay for his numerous atrocities, but Slorzack seems to have literally dropped off the face of the Earth, beyond the reach of his enemies, the Illuminati, and maybe even the devil himself. To find Slorzack, Ballard must follow a winding, treacherous path that stretches from Wall Street and Washington, DC, to backwoods hollows and truck stops while risking what's left of his very soul....

(
It"s like Harry Dresden but sooooooo DAAAAAAAAARK MAAAAAAAN!!!!
Collapse
)