I am up to 140K words now, which those of you who are counting will realize is only 2000 words in the last three weeks. Yes, I suck.
Okay, it's one of those mushy middle transitory chapters where I am not sure how to push through and make interesting things happen without being boring along the way. But I seem to have made progress in the last couple of days; as usual, it comes from deviating from my weak-ass outline and writing dialog as I go along and realizing a new subplot has emerged.
Alexandra has been
trying
to be good. But now she's back to saying "Fuck it, Ima do what I want."
The more interesting things always seem to happen when Alexandra is off her leash. Go figure.
So, we have an awesome new illustration by
cactuscommando
— Alexandra, if she lives to be 20:

Visiting Home
by
cactusfantastico
on
deviantART
And two more character illustrations:

Innocence Pritchard
by
cactusfantastico
on
deviantART

Mary Shirtliffe
by
cactusfantastico
on
deviantART
You'd think I'd get more writing done on a snow day. I suck.
When the world ends, an underground 1-bedroom apartment and a 10-year supply of beans will totally justify devoting your life to end-times paranoia.
So I am now working on a new OF novel. (No, sorry, no good news about my SF novel. One agent was interested but ultimately passed, so I think it's going in the trunk for now.) It's a post-apocalyptic. Old school. What can I say, first I wrote a Heinleinesque teen space adventure, now I am writing my own version of
The Stand
. Never let it be said my writing is guided by commercial viability or original ideas. :P
(No, not thinking of self-publishing at this time. If I was gonna just see how many self-published ebooks I could sell, I'd adopt a new pseudonym and write M/M were-dinosaur erotica.)
So, anyway, survival in the post-apocalypse. My new book gives me an excuse to indulge in
wasting more time reading crazy people ranting on the Internet
research.
Now and then I acquire temporary odd obsessions/fascinations. Right now it is with the whole "prepper" subculture (what used to be called "survivalists"). Currently they are predicting the imminent collapse of Western civilization, hyperinflation of the U.S. Dollar, Peak Oil, Obama herding people into FEMA camps, and various combinations of
EMPs
, superstorms, nuclear meltdowns, and roving cannibal hordes. Not necessarily in that order.
Of course these subcultures have been predicting imminent catastrophe since at least the 60s. And remember all that Golden Age science fiction about nuclear families emerging from their suburban bomb shelters after the atomic war to survey a shattered, post-apocalyptic America?
The fears of these survivalists are somewhat based on real threats. People were legitimately afraid of nuclear war in the 50s, though they had seriously optimistic notions about how survivable an actual global thermonuclear war would be. And watching the economy now, I cannot say that I think predictions of hyperinflation and/or a Great Depression-level collapse are absolutely, completely absurd. I would rate the worst-case scenarios as "unlikely," but it would be foolish to assume that the dollar is going to be as strong in 20 years as it is now.
That said, it's one thing to stock a little extra food and water and maybe even some hard currency just in case your city's grid goes down in a catastrophe, and another to seriously prepare for The End of the World As We Know It.
Doomsday Bunkers
is a "reality show" that is not really that interesting — it's about a company that builds bunkers and storage pods for preppers. The interesting part is not their prefab steel shipping containers that they basically turn into 1-bedroom apartments and bury in a hole in the ground; it's all the scared white people (it's almost all scared white people) spending massive amounts of money on remote threats. I mean, one lady spent $150,000 on an underground bunker with NBC air filters because she lives 15 miles from a nuclear power plant and is worried about a meltdown. If you are that worried about a meltdown, wouldn't it be cheaper just to
move away from the power plant
?
Other preppers were these guys trying to put on an Alpha Wolf display (at least on camera), thinking that some gym muscles and a shaved head made them look hard, while they growled about how they are totally gonna Protect Their Families and shoot anyone who tries to Take Their Stuff, yo. Did they actually
train
with any of those expensive, high-end guns they were waving around? Did they think about
long-term survival
in a world where they and their family have to retreat to an underground shipping container because starving hordes of people who want to Take Their Stuff are ransacking their property?
If you are preparing for a
serious
TEOTWAKI event, then nothing less than self-sufficiency and/or a community of like-minded people all preparing for the same thing will suffice. If you are a suburbanite or even someone with a rural bunker, I cannot think of a more miserable existence than hiding in a can breathing reprocessed air for years. What's even the point? These are people terrified by death, plagued by irrational fears.
This is what a prepper looks like.
Not always this rich, but almost always this white.
They would probably laugh at a Manhattanite "prepper" like
Aviva Drescher
:

"I bought body gear, really expensive body gear, like the kind used by the Army. I went online and researched gas masks. I bought a gas tent for my baby. I was so crazy that when I took my baby out, I would keep a gas mask in the stroller. I stocked up on Cipro," she said. (Cipro is used to treat people exposed to anthrax.) "I bought a bunch of giant rafts to go down the East River. Though I know," she sighed, "all the big shots will probably have private planes and helicopters."

I mean, seriously, carrying around a gas mask just in case of a sudden nerve gas attack in Central Park? This is what we call "poor risk assessment." If you were to list all the possible threats to your baby, the probability of
nerve gas
is way, way, way lower than more mundane threats that would be mitigated by much more practical measures...
But as amusing as the notion of a Real Housewife of NYC hobbling about in high heels and body armor may be, fundamentally Ms. Drescher's thinking is no more irrational than all the other scared white people who don't know what to do in the event that their environment comes to resemble... well, much of the world today. Where the police are not your friends and not going to show up to protect you, and walking outside without being shot at is not a given, nor is the ready availability of food. Go to any inner city and you'll find a large number of people who live like that
today
, in America. Survival skills are not necessarily hiding in a bunker with a horde of firearms or carrying gas masks in case of a Tom Clancy novel.
They aren't all crazy and irrational, though. It's easy to see how they get caught up in that mindset.
I have been reading Jim Rawles's
SurvivalBlog
, and it's a combination of hard, practical common sense and survival tips for when shit seriously hits the fan (and knowledge and skills that are useful to have even if it doesn't), and raving moonbat goldbugs, fundies, and gun nuts. These are people buying real estate in the "American Redoubt" (generally, Montana/Idaho/North Dakota and thereabouts) because they expect both coasts and all major cities to become Somalia. In fairness, Rawles himself is sane and reasonable, even if I disagree with some of his conclusions and most of his
premises
, but you can feel the fear and paranoia oozing from some of his letter-writers.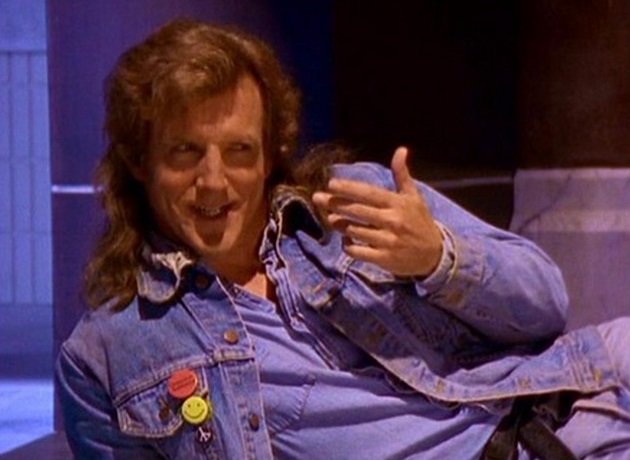 Grab yo' guns, fucker! It's time to start shootin' librulz!
There is also a subset of the survivalist subculture that isn't just fearfully
preparing
for society to collapse, but eagerly anticipating it. From those who want to literally burn it to the ground to those who won't do anything to immanentize the eschaton themselves but just can't wait until they can start shooting the
Democrats
starving hordes, there's a very creepy and heavily-armed fringe waiting to come out of the woodwork.
I call these people "Flaggians." It's akin to that famous cocktail party game about
going Nazi
— when the end of the world comes, who would join up with Randall Flagg? I have my thoughts on how you can predict who will be a wolf, who will be a sheep, and who will be a sheepdog.
In the meantime, I am working on zombie-proofing my house, and on my novel.
Poll #1952528
Prepper poll
Open to:
All
, detailed results viewable to:
All
, participants: 23
How much of a PREPPER are you?
View Answers
Uh, I have a first aid kit and a pocket knife
9 (39.1%)
I am kind of prepared: emergency kit, extra food and water, a disaster plan
5 (21.7%)
I am a prepper! I can survive for six months or more after TEOTWAWKI
0 (0.0%)
I am reading this from my underground bunker in Montana. You won't be laughing at me when the zombies come, fool!
1 (4.3%)
Hell with that, if SHTF, I'll be roadkill (or else I'll be joining the starving hordes)
8 (34.8%)
Would you believe I'd never actually seen this movie?
So, I finally Netflixed it, not expecting much in terms of historical accuracy. While the history is, obviously, Hollywoodized, Ridley Scott did create a grand Roman spectacle with admirable attention to detail. Hey, grand spectacle and battle scenes with a Hans Zimmer soundtrack? I don't know why I never watched it before.
But — guess which part
annoyed the bayjeezus
out of me?
That's right — the
Hollywood-Stupid
part: "Hello, I am the fucking Emperor of Rome. I want to prove what a bad-ass I am, so I will stick my enemy with a knife so he's bleeding out, then put armor on him and give him a live blade so we can fight in an arena. He's already proven to be very hard to kill and one of the best gladiators ever, but I'm the fucking Emperor of Rome so how can my clever plan possibly go wrong?"
Yeah, other than that part, good movie.
Book Review: Necessary Evil, by Ian Tregillis
Nazi supermen vs. British warlocks in a do-over to save the world.
Tor, 2013, 384 pages

May 12, 1940, Westminster, London, England: the early days of World War II.

Again.

Raybould Marsh, one of "our" Britain's best spies, has travelled to another Earth in a desperate attempt to save at least one timeline from the Cthulhu-like monsters who have been observing our species from space and have already destroyed Marsh's timeline. In order to accomplish this, he must remove all traces of the supermen that were created by the Nazi war machine and caused the specters from outer space to notice our planet in the first place.

His biggest challenge is the mad seer Greta, one of the most powerful of the Nazi creations, who has sent a version of herself to this timeline to thwart Marsh. Why would she stand in his way? Because she has seen that in all the timelines she dies and she is determined to stop that from happening, even if it means destroying most of humanity in the process. And Marsh is the only man who can stop her.

Necessary Evil is the stunning conclusion to Ian Tregillis' Milkweed series.

(
Let's do World War II again, because it was so much fun the first time!
Collapse
)
Verdict:
Necessary Evil
brings the Milkweed trilogy to a finale, so definitely do not read it out of order. The ending suffers only from a bit of deja vu thanks to the events of the first book being replayed and altered, but it's a satisfying conclusion to a great series.
Also by Ian Tregillis
: My reviews of
Bitter Seeds
and
The Coldest War
.
---
My complete list of book reviews.
Book Review: The Cloud Roads, by Martha Wells
Dragonriderskin of Two MoonsThree Worlds.
Night Shade Books, 2011, 278 pages

Moon has spent his life hiding what he is - a shape-shifter able to transform himself into a winged creature of flight. An orphan with only vague memories of his own kind, Moon tries to fit in among the tribes of his river valley, with mixed success. Just as Moon is once again cast out by his adopted tribe, he discovers a shape-shifter like himself... someone who seems to know exactly what he is, who promises that Moon will be welcomed into his community. What this stranger doesn't tell Moon is that his presence will tip the balance of power... that his extraordinary lineage is crucial to the colony's survival... and that his people face extinction at the hands of the dreaded Fell! Now Moon must overcome a lifetime of conditioning in order to save himself... and his newfound kin.

(
It took me a while to figure out why this book was annoying me so much.
Collapse
)
Verdict:
The Cloud Roads
was not bad; it has definite original elements and lots of action. But parts of it grated on me, and at a certain point I found myself skimming, which is a bad sign and makes me disinclined to read the rest of the series.
---
My complete list of book reviews.
Book Review: Alas, Babylon, by Pat Frank
Florida (and the rest of the world) gets nuked in this post-apocalyptic classic.
J.B. Lippincott, 1959, 279 pages

This true modern masterpiece is built around the two fateful words that make up the title and herald the end - "Alas, Babylon." When a nuclear holocaust ravages the United States, a thousand years of civilization are stripped away overnight, and tens of millions of people are killed instantly.

But for one small town in Florida, miraculously spared, the struggle is just beginning, as men and women of all backgrounds join together to confront the darkness.

(
Alas, alas, that great city Babylon, that mighty city! For in one hour is thy judgment come.
Collapse
)
Verdict:
This was a good read for anyone who's a fan of survivalist novels and stories about what a community would do after the end of the world. Very slightly dated, but the writing style and the challenges facing the characters will mostly keep you from noticing.
---
My complete list of book reviews.

Belagana
by
~
cactusfantastico
on
deviantART
I love this.
Hee.
Book Review: Angelmaker, by Nick Harkaway
Nick Harkaway stamps his "AWESOME! ™" brand on lesbian James Bonds and evil clockwork bees.
Alfred A. Knopf, 2012, 482 pages

Joe Spork repairs clocks, a far cry from his late father, a flashy London gangster. But when Joe fixes one particularly unusual device, his life is suddenly upended. Joe's client, Edie Banister, is more than just a kindly old lady - she's a former superspy. And the device? It's a 1950s doomsday machine. And having triggered it, Joe now faces the wrath of both the government and a diabolical South Asian dictator, Edie's old arch-nemesis.

With Joe's once-quiet world now populated with mad monks, psychopathic serial killers, scientific geniuses, girls in pink leather, and threats to the future of conscious life in the universe, he realizes that the only way to survive is to muster the courage to fight, help Edie complete a mission she gave up years ago, and pick up his father's old gun.

(
Never mind, never mind, let's get to the part where we smite the unrighteous. I've brought my most alarming teeth!
Collapse
)
Verdict:
This book is AWESOME! ™, which is Nick Harkaway's signature writing shtick, and if the monkey-ninja-pirates brand of world-saving adventure appeals to you,
Angelmaker
, while lacking monkeys, ninjas, or pirates, does have evil monks, clockwork doomsday bees, stylish gangsters, a mustache-twirling supervillain with a god complex, and a ninety-year-old ex-secret agent with a ferocious pug. And some damn fine writing in a spirit of high adventure and political satire.
Also by Nick Harkaway
: My review of
The Gone-Away World
.
---
My complete list of book reviews.