Book Review: One Second After, by William R. Forstchen
Prepper porn with a foreword by Newt Gingrich. o..O
Forge Books, 2009, 352 pages

In a small North Carolina town, one man struggles to save his family after America loses a war that will send it back to the Dark Ages.

Already cited on the floor of Congress and discussed in the corridors of the Pentagon as a book all Americans should read, One Second After is the story of a war scenario that could become all too terrifyingly real. Based upon a real weapon - the Electro Magnetic Pulse (EMP) - which may already be in the hands of our enemies, it is a truly realistic look at the awesome power of a weapon that can destroy the entire United States, literally within one second.

This book, set in a typical American town, is a dire warning of what might be our future and our end.

(
This post-apocalyptic thriller will have you buying bullets, beans, and bullion.
Collapse
)
Verdict:
A realistic, zombie-free apocalyptic novel that will make preppers happy and non-preppers nervous. While not a great work of literature by any means, I found
One Second After
to be quite a page-turner, and the sort of book that might do what the author wants and make people think. Of course the author wants you to think about electromagnetic pulse bombs taking down the grid forever, but if you think about stocking an emergency kit instead, I say mission accomplished.
---
My complete list of book reviews.
Book Review: The Reapers are the Angels, by Alden Bell
If Cormac McCarthy wrote a YA zombie novel.
Tor, 2010, 225 pages

For 25 years, civilization has survived in meager enclaves, guarded against a plague of the dead. Temple wanders this blighted landscape, keeping to herself and keeping her demons inside her heart. She can't remember a time before the zombies, but she does remember an old man who took her in and the younger brother she cared for until the tragedy that set her off on her personal journey toward redemption. Moving back and forth between the insulted remnants of society and the brutal frontier beyond, Temple must decide where ultimately to make a home and find the salvation she seeks.

(
...you can't put nothing past these Southern boys. They just sit around waiting for somebody to kill their brother so they can get started on some vengeance. It's like a dang vocation with them.
Collapse
)
Verdict:
If you are not completely burnt out on zombie novels,
The Reapers are the Angels
is a short, literary take on this well-worn theme. Highly recommended for YA readers as well who might like to try something a little more upmarket.
---
My complete list of book reviews.
Book Review: Sarum: The Novel of England, by Edward Rutherfurd
England: from the Paleolithic to the 1980s, by Jove!
Crown Books, 1987, 897 pages

In Sarum, Edward Rutherfurd weaves a compelling saga of five English families whose fates become intertwined over the course of centuries. While each family has its own distinct characteristics, the successive generations reflect the changing character of Britain. We become drawn not only into the fortunes of the individual family members, but also the larger destinies of each family line.

Meticulously researched and epic in scope, Sarum covers the entire sweep of English civilization: from the early hunters and farmers, the creation of Stonehenge, the dawn of Christianity, and the Black Death; through the Reformation, the wars in America, the Industrial Age, and the Victorian social reforms; up through the World War II invasion of Normandy and the modern-day concerns of a once-preeminent empire.

(
Five families, 15,000 years. Give or take a few millenia.
Collapse
)
Verdict:
Recommended for people who like big juicy historical doorstoppers.
Sarum
has a bit of romance, a bit of action, and a lot of religion, war, and economics, all of it narrated in the form of a multi-family drama. Great reading for those who like this kind of book; despite its length it never drags.
---
My complete list of book reviews.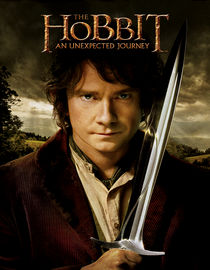 It's been a long time since I read the book, but I'm pretty sure half this shit was not in it.
I don't mind that it's not a wholly faithful adaptation, but when part one of a three-movie series is this
boring
, it does not bode well.
One of the things the heavy reliance on CGI did was highlight just how ridiculous some of the D&D tropes that evolved from Tolkien are. Like dwarves taking on trolls. I completely failed to believe a bunch of dwarves, however bad-ass they may be, beating monsters made out of pure muscle mass several times their size in close combat. Now granted, complaining about a lack of physics in fantasy RPGs is rather missing the point, but when you put it in a movie, it starkly illustrates how fantastical and ridiculous it is.
I don't care if they're all 12th-level fighters, one troll would stomp the lot of them into the ground.
I did like the part with Gollum.
Denny's is selling
Desolation of Smaug: Hobbit breakfasts
.
Denny's.
Gandalf help me, I think I preferred the 1977 Rankin-Bass version.
Most of you peons have a Social Capital of "less than 10", but it seems I am a very important dude:
I don't even know how this is scored. I don't have that many Friends. Maybe because I am a mod of
bookish
and
books1001
?
So lest that ranking of 22 give me a swelled head (it seems to fluctuate between 21 and 23), world-famous author Nick Mamatas (aka
nihilistic_kid
) has a Social Capital of 122. And some Russian account I've never heard of who visited my journal the other day had a Social Capital of 243.
I mean, apparently you can spend money and Social Capital to get your posts front-paged on LJ or something? LOL, c'mon folks, everyone knows LJ is dying anyway. Except maybe in Russia. Who cares about LJ User Ranking?
Now Amazon or Goodreads reviewer ranking, that's srs bznss!
Apparently Live Journal has now implemented something called "Social Capital."
It was very interesting seeing how you rated the characters and how your judgments differed from mine. Amusing was how there was unanimous or near-unanimous consensus about some characters, while others were all over the place.
Mostly, you were at least in the right quadrant, overall. In some cases, my judgment differed significantly from the majority, which made me think about how I have presented the character and whether I am actually "wrong" or if I just have not showed enough of the character's personality to justify my rating.
Now, my joking about Word of God notwithstanding, as the diagram above (and much of the discussion) illustrated, alignment is rather subjective and depends a lot on how the person rating the alignment perceives "Good" and "Evil" and "Law" and "Chaos." For example, can a "Good German" who serves his country, loves his family, is kind and generous to his friends, and honestly believes that Jews are an existential threat who need to be exterminated, be Lawful Good? What about slaveowners in the antebellum South? If we accept the premise that slavery is Evil (at least in the D&D sense), then can a supporter of slavery be Good?
It's a truism, of course, that most people believe themselves to be good, and very few people are knowingly and deliberately evil. It's also true, IMO, that most people who rationalize evil and selfishness know at some level that they are lying to themselves, which means telling yourself you're good doesn't mean you are.
The real problem with the AD&D alignment system was that it codified alignment almost as religions; characters basically walked around wearing their alignments like a badge. Lawful Evils would proudly proclaim themselves Lawful Evil, Chaotic Evils would have no qualms about being evilly evil for the sake of evil because evil. I don't know if this persisted in later editions, but at least through 2nd edition there were actually
alignment languages
. I always thought the idea of being able to "speak" Chaotic Good was kind of hilarious. Just by virtue of your alignment, you shared a common tongue with elves and brass dragons. o..O
Of course, the alignment system also punished anyone who acted against their alignment, which meant when presented with a quest or a job offer or a maiden in need of rescuing, players would think "Okay, what is the Chaotic Good way of responding to this?"
In real life, of course, people can be wildly variable in their behavior; good people can be really ugly jerk-asses and evil people can have family, friends, and pets they genuinely love and care about, and only psychopaths are Chaotic Evil.
That said, here are my alignment ratings. Feel free to argue in the comments!
(
At least we're not actually writing up character sheets.
Collapse
)
Boy, I had no idea that nerding out about alignments would generate the most discussion in months.
Movie Review: Thor: The Dark World
Actually saw this in the theater. I think I liked it better than the first movie, which was a surprise. It's rather remarkable how well Marvel has done pulling B- and C-list villains out of its archives as movie Big Bads.
Best parts: Loki's banter, and London getting trashed. (Why does it always have to be New York?)
Worst parts: No way do I buy Natalie Portman as a PhD astrophysicist. And if you keep slapping gods, sweetie, sooner or later one of them is going to slap you back. Also, there seems to be a
biiiig
unexplained plot hole at the end, which I guess will be addressed in the next movie?
Wait for the very, very end of the credits - the audience that waited for the first easter egg and left missed the second.