An alien race saves humanity, for its own reasons.
Warner Books, 1987, 248 pages

In a world devastated by nuclear war with humanity on the edge of extinction, aliens finally make contact. They rescue those humans they can, keeping most survivors in suspended animation while the aliens begin the slow process of rehabilitating the planet. When Lilith Iyapo is "awakened", she finds that she has been chosen to revive her fellow humans in small groups by first preparing them to meet the utterly terrifying aliens, then training them to survive on the wilderness that the planet has become. But the aliens cannot help humanity without altering it forever.

Bonded to the aliens in ways no human has ever known, Lilith tries to fight them even as her own species comes to fear and loathe her. A stunning story of invasion and alien contact by one of science fiction's finest writers.

(
Alien sex and metaphors.
Collapse
)
Verdict:
Dawn
is a very interesting novel, and while I found some parts a little predictable (like almost all the other humans inevitably proving violent and untrustworthy), and the prose was sometimes so plain as to be dry, I will probably continue the trilogy. 7/10.
Also by Octavia Butler
: My reviews of
Parable of the Sower
,
Parable of the Talents
, and
Fledgling
.
---
My complete list of book reviews.
Book four in the Frontlines series about a war against aliens is rather lacking in aliens.
47North, 2016, 386 pages

The assault on Earth was thwarted by the destruction of the aliens' seed ship, but with Mars still under Lanky control, survivors work frantically to rebuild fighting capacity and shore up planetary defenses. Platoon sergeant Andrew Grayson must crash-course train new volunteers - all while dulling his searing memories of battle with alcohol and meds.

Knowing Earth's uneasy respite won't last, the North American Commonwealth and its Sino-Russian allies hurtle toward two dangerous options: hit the Lanky forces on Mars or go after deserters who stole a fleet of invaluable warships critical to winning the war. Assigned to a small special ops recon mission to scout out the renegades' stronghold on a distant moon, Grayson and his wife, dropship pilot Halley, again find themselves headed for the crucible of combat - and a shattering new campaign in the war for humanity's future.

(
Time to go nuke some traitors.
Collapse
)
Verdict:
Chains of Command
is not a good entry point into the series - start at the beginning. But this one won't let you down, even if it lacked some of the climactic moments of previous volumes. 7/10.
Also by Marko Kloos
: My reviews of
Terms of Enlistment
,
Lines of Departure
, and
Angles of Attack
.
---
My complete list of book reviews.
The (kinda) former supervillain adds a few more lines to his character sheet.
Self-published, 2014, 196 pages

Cal Stringel may be dead to the world at large, but a select few know that he's still alive and in control of the most powerful suit of battle armor ever created. He's part of a rogue superteam taking the world by storm and changing the dynamic for both heroes and villains alike. With change comes resistance, and those holding control and power are not ready to just hand it over without a fight.

For the former D-list supervillain, it's time to break out the spare synthmuscle, charge the massive railgun pistol, and bring the pain. With his new team, he thinks he can take on the world, but is Cal biting off more than he can chew? He must deal with sanctioned hero teams and power-mad bureaucrats on one side and the major supervillains of his world on the other.

As Cal and his allies ready themselves to face friend and foe, he will also have to deal with his relationship with Stacy Mitchell, also known as the Olympian, Aphrodite. Separated for more than a year, they've only just reunited and are faced with the prospect of being on opposite sides of the coming conflict. Can they find enough common ground between the secrets and half truths to sustain their fledgling relationship, or are they doomed like the last time to crash and burn?

(
Still fun, but not as solid as the first book.
Collapse
)
Also by Jim Bernheimer
: My review of
Confessions of a D-List Supervillain
.
---
My complete list of book reviews.
A post-apocalytic dark fantasy about a twelve-year-old harper.
Haunted Stars Publishing, 2013, 185 pages

The Red Empress is the only home Erzelle has known since the day her family was lured aboard and murdered, victims of a grisly ritual meant to make the elite immortal. Erzelle plays her harp for the diners inside this ghoul-infested riverboat, knowing her own death looms, escaping through the music that's all she has left of her parents.

Her nightmare's upended in the space of a day by the arrival of Olyssa, a fellow musician, but so much more.

Erzelle is swept up in Olyssa's quest to find her ensorcelled sister Lilla, a journey across a mutated landscape that leads them to an enemy responsible for the deaths of millions. To stop the slaughter of countless more, the pair has no choice but to draw on the deadly magics that reshaped the world... a power that's as dangerous to its wielders as it is to its foes, that's killing Erzelle even as she fights to control it.

(
Atmospheric dark fantasy with music and black fire.
Collapse
)
---
My complete list of book reviews.
A brutal story about a girl with a mother who loves her but loves her abusive stepfather more.
Penguin Books, 1992, 336 pages

Greenville County, South Carolina, is a wild, lush place that is home to the Boatwright family - a tight-knit clan of rough-hewn, hard- drinking men who shoot up each other's trucks, and indomitable women who get married young and age too quickly. At the heart of this story is Ruth Anne Boatwright, known simply as Bone, a bastard child who observes the world around her with a mercilessly keen perspective. When her stepfather, Daddy Glen, "cold as death, mean as a snake", becomes increasingly more vicious toward her, Bone finds herself caught in a family triangle that tests the loyalty of her mother, Anney - and leads to a final, harrowing encounter from which there can be no turning back.

(
Who"s the greater villain: the victimizer or the one who stands by him?
Collapse
)
---
My complete list of book reviews.
The classic novel about Earth being invaded by pod people.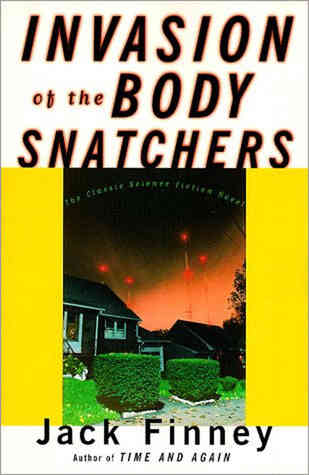 Touchstone, 1955, 228 pages

On a quiet fall evening in the small, peaceful town of Mill Valley, California, Dr. Miles Bennell discovered an insidious, horrifying plot. Silently, subtly, almost imperceptibly, alien life-forms were taking over the bodies and minds of his neighbors, his friends, his family, the woman he loved -- the world as he knew it.
First published in 1955, this classic thriller of the ultimate alien invasion and the triumph of the human spirit over an invisible enemy inspired three major motion pictures.

(
In which humans fight off an alien invasion just by being stubborn. With bonus reviews of ALL FOUR movie adaptations!
Collapse
)
Verdict:
Body Snatchers
is a classic that's worth reading for its historical impact on the genre, but it reads like what it is, a serialized 50s SF story. The four movies based on it range from good to pretty bad, and I wouldn't recommend you watch all four of them like certain obsessive book reviewers, but you should watch at least one (I recommend either the 1956 or the 1978 version). Rating: 6/10.
---
My complete list of book reviews.
God, Gods, Heroes, Robots, Monsters, Aliens, Literary References, Post-Humans, Epic SF Weirdness
Harper Voyager, 2005, 704 pages

Beneath the gaze of the gods, the mighty armies of Greece and Troy met in fierce and glorious combat, scrupulously following the text set forth in Homer's timeless narrative. But that was before 21st-century scholar Thomas Hockenberry stirred the bloody brew, causing an enraged Achilles to join forces with his archenemy, Hector, and turn his murderous wrath on Zeus and the entire pantheon of divine manipulators; before the swift and terrible mechanical creatures that catered for centuries to the pitiful idle remnants of Earth's human race began massing in the millions, to exterminate rather than serve.

And now all bets are off.

(
Prospero battles Caliban, the Demogorgon strikes down Zeus, and pretty much all Greeks are assholes.
Collapse
)
Also by Dan Simmons
: My reviews of
Hyperion
,
The Fall of Hyperion
,
Endymion
,
The Rise of Endymion
,
Ilium
, and
Summer of Night
.
---
My complete list of book reviews.
A hacker in an unnamed Middle Eastern country accidentally starts a revolution, with a little help from djinn.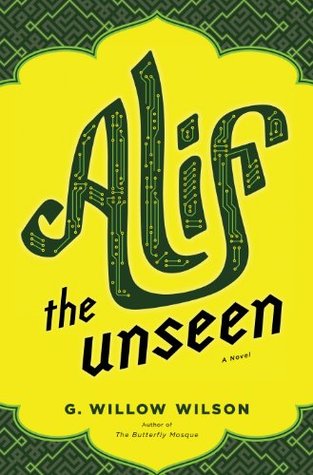 Grove Press, 2012, 320 pages

Alif has encountered three strokes of bad luck. The aristocratic woman he loves has jilted him, leaving him with only a mysterious book of fairytales. The state censorship apparatus of the emirate where he lives has broken into his computer, compromising his business providing online freedom for clients across the Islamic world. And now the security police have shown up at his door. But when Alif goes underground, he will encounter a menagerie of mythical creatures and end up on a mad dash through faith, myth, cyberspace, love, and revolution.

(
A more optimistic, fantasy-tinged version of the Arab Spring.
Collapse
)
---
My complete list of book reviews.
Get your Johns, Dicks, and Harrys straight — the kings of England in the Middle Ages.
Viking, 2012, 534 pages

The first Plantagenet king inherited a blood-soaked kingdom from the Normans and transformed it into an empire that stretched at its peak from Scotland to Jerusalem. In this epic history, Dan Jones vividly resurrects this fierce and seductive royal dynasty and its mythic world. We meet the captivating Eleanor of Aquitaine, twice queen and the most famous woman in Christendom; her son, Richard the Lionheart, who fought Saladin in the Third Crusade; and King John, a tyrant who was forced to sign Magna Carta, which formed the basis of our own Bill of Rights. This is the era of chivalry, Robin Hood, and the Knights Templar, the era of the Black Death, the Black Prince, the founding of Parliament, and the Hundred Years' War.

(
They were playing Game of Thrones before the Lancasters.
Collapse
)
---
My complete list of book reviews.
Middle America, 1960s, boys' adventure, ancient evil.
Putnam Publishing, 1991, 555 pages

It's the summer of 1960 and in the small town of Elm Haven, Illinois, five twelve-year-old boys are forging the powerful bonds that a lifetime of change will not break. From sunset bike rides to shaded hiding places in the woods, the boys' days are marked by all of the secrets and silences of an idyllic childhood. But amid the sun-drenched cornfields, their loyalty will be pitilessly tested. When a long-silent bell peals in the middle of the night, the townsfolk know it marks the end of their carefree days. From the depths of the Old Central School, a hulking fortress tinged with the mahogany scent of coffins, an invisible evil is rising. Strange and horrifying events begin to overtake everyday life, spreading terror through the once-peaceful town. Determined to exorcize this ancient plague, Mike, Duane, Dale, Harlen, and Kevin must wage a war of blood against an arcane abomination who owns the night....

(
Dan Simmons writing in Stephen King"s shadow.
Collapse
)
Also by Dan Simmons
: My reviews of
Hyperion
,
The Fall of Hyperion
,
Endymion
,
The Rise of Endymion
, and
Ilium
.
---
My complete list of book reviews.